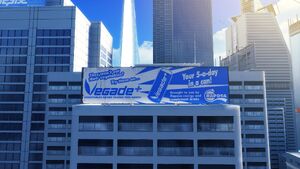 Vegade, also known as Vegade+, is a brand of drinks marketed in The City by the Raposa Food Company, which produces energy and supplement drinks. According to the advertisements, the drink is very healthy and consists of vegetables. Vegade is sold in cans. Advertisements for Vegade can be found all over the City, with slogans such as: "Your 5-a-day in a can!", "Vegetables never tasted this good!", "They won't eat their vegetables? Try them on... Vegade". Because of the nature of the government, Vegade might also contain chemicals used to dumb down people or limit critical thinking, so people won't have rebellious thoughts, to prevent something like the November Riots from happening again.
Ad blocker interference detected!
Wikia is a free-to-use site that makes money from advertising. We have a modified experience for viewers using ad blockers

Wikia is not accessible if you've made further modifications. Remove the custom ad blocker rule(s) and the page will load as expected.