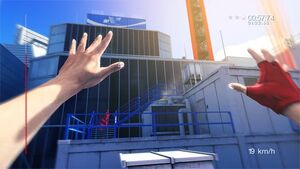 Time Trial is an extra game mode aside from the Story Mode that players can play in Mirror's Edge. These levels test the player's speed and knowledge and skill of using shortcuts to get to a designated point.
Players start off in a "Starting Line", where the trial begins. Once the go is given, the player must get to a location, marked as a large, transparent red cylinder that can be located anyplace in the map and is automatically seen when the player presses the Hint button. Players must go to the point on par or under the time given; when they get there, the time taken to get there is shown (in red means you're too late; green means you got there on time), and another location is marked for the player. Once getting to all points, the game would tell them if they made below or at the par time or were too late.
Time is very important; even if the player falls to their death, the time is still ticking and is still going after they respawn. Shortcuts are crucial to know and use to shave off even a mere few seconds to even whole minutes. Players having top scores and online support would have their time recorded. Other players can "challenge" them and also race against the "ghost", a recording of the challenged player's gameplay.
Stars are also earned when finishing the level. One star is given to players on time or a few seconds early. Two stars are given to players who can beat the par time by at least around 20 seconds. Three stars are rewarded for players who are the master of speed and shortcuts and could be the par time by around 30 seconds or more.
Pure Time Trials DLC
Edit
Electronic Arts and DICE allowed players to buy an exclusive "Pure Time Trials" map pack as Downloadable Content via the console's online store (PlayStation 3/XBox 360) or the Origin store (PC); they are not officially available to users who bought Mirror's Edge through Steam. These maps take place in an abstract, floating realm, rather than in the urban setting of the main game. They are full of glass walls, colorful platforms, shapes, structures, and poles that encourage the player to find their own way to a destination.
The time trial levels in the original game (not including the DLC) are unlocked either by completing Story Mode levels, or by beating a qualifying time on a previous time trial level.
| Time Trial Level | Unlock Condition |
| --- | --- |
| PLAYGROUND ONE | Complete Training Area in Story Mode to unlock this course |
| PLAYGROUND TWO | Beat a qualifying time on Playground 1 to unlock this course |
| PLAYGROUND THREE | Beat a qualifying time on Playground 2 to unlock this course |
| EDGE | Complete Prologue in Story Mode to unlock this course |
| ARLAND | Complete Chapter 1 in Story Mode to unlock this course |
| FLIGHT | Beat a qualifying time on Arland to unlock this course |
| CHASE | Complete Chapter 2 in Story Mode to unlock this course |
| STORMDRAINS ONE | Beat a qualifying time on Chase to unlock this course |
| STORMDRAINS TWO | Beat a qualifying time on Stormdrain 1 to unlock this course |
| STORMDRAINS THREE | Beat a qualifying time on Stormdrain 2 to unlock this course |
| HEAT | Complete Chapter 3 in Story Mode to unlock this course |
| BURFIELD | Beat a qualifying time on Heat to unlock this course |
| CRANES ONE | Beat a qualifying time on Burfield to unlock this course |
| CRANES TWO | Complete Chapter 4 in Story Mode to unlock this course |
| NEW EDEN | Complete Chapter 5 in Story Mode to unlock this course |
| FACTORY | Complete Chapter 6 in Story Mode to unlock this course |
| OFFICE | Complete Chapter 7 in Story Mode to unlock this course |
| CONVOY ONE | Complete Chapter 8 in Story Mode to unlock this course |
| CONVOY TWO | Beat a qualifying time on Convoy 1 to unlock this course |
| ATRIUM ONE | Beat a qualifying time on Convoy 2 to unlock this course |
| ATRIUM TWO | Beat a qualifying time on Atrium 1 to unlock this course |
| SHARD ONE | Complete Chapter 9 in Story Mode to unlock this course |
| SHARD TWO | Beat a qualifying time on Shard 1 to unlock this course |