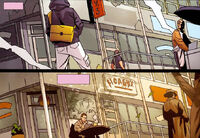 Hoagy's is a bar located in one of the Old Town pockets of the City of Glass. After his wife's death the bar became a favoured haunt of Abraham Connors' and years later Faith would return to look for clues as to where her father was. With the help of some of the staff father and daughter would eventually reunite only to be shot at by Silvine Security forces. The ensuing gunfight resulted in a fire breaking out inside the bar and the death of Austen Reynolds.
Ad blocker interference detected!
Wikia is a free-to-use site that makes money from advertising. We have a modified experience for viewers using ad blockers

Wikia is not accessible if you've made further modifications. Remove the custom ad blocker rule(s) and the page will load as expected.