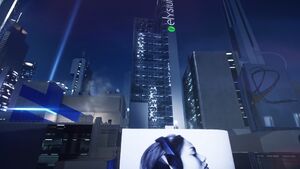 The Elysium Building is a large, clean, utopian building within the City of Glass. The face of the building is mostly glass, with a large "elysium" sign running vertically up the side of the building.
Elysium or the Elysian Fields is a conception of the afterlife that developed over time and was maintained by some Greek religious and philosophical sects and cults. Initially separate from the realm of Hades, admission was reserved for mortals related to the gods and other heroes.
External Links
Edit
Ad blocker interference detected!
Wikia is a free-to-use site that makes money from advertising. We have a modified experience for viewers using ad blockers

Wikia is not accessible if you've made further modifications. Remove the custom ad blocker rule(s) and the page will load as expected.