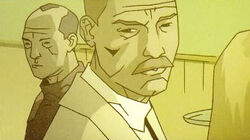 Biography
Edit
Austen Reynolds was a key member of the Libertas movement and opposed the Citizenship Program, alongside Abraham Connors and Robert Pope. He later participated in the November Riots.
During the Libertas movement, Erika Connors and Austen were having an affair, due to Abraham neglecting her and his family. Holding Abraham and himself responsible for her death, Austen attempted to kill Abraham out of vengeance years later. However, he was gunned down by Silvine Security officers who had happened upon them while in pursuit of a chip created by Erika before her death.
Ad blocker interference detected!
Wikia is a free-to-use site that makes money from advertising. We have a modified experience for viewers using ad blockers

Wikia is not accessible if you've made further modifications. Remove the custom ad blocker rule(s) and the page will load as expected.